Why should I help?
To find out more about your donation, please see our flyer: Flyer: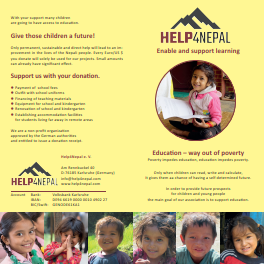 How can I support the work of Help4Nepal?
We finance our projects and our help through allowances in money. No matter if you donate once or regularly or if you function as an advertising sponsor, any help is welcomed and needed.
We are authorized to issue a donation receipt because we are a recognized charitable association.
Account for donations
You can transfer money directly to our bank account:
IBAN: DE94 6619 0000 0010 4902 27 - BIC: GENODE61KA1 (Volksbank Karlsruhe)
Donate via PayPal
Support us by sending us money simply via PayPal
Help currently needed!
Approximately 30% of the planned costs are currently missing for the ongoing project to build a school hostel (details of the project can be found here). If everyone contributes a small part, we can all do something about poverty in Nepal by supporting local education directly.